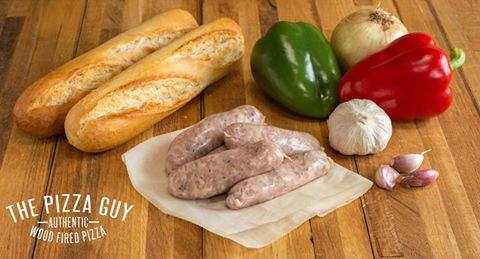 Italian Sausage & Peppers Hero
Italian Sausage and Peppers, is a classic Italian American combination, served in bread, its the perfect comfort food, brunch.
Real Italian sausages are hard to find, which is why I make my own, but you can find them in delis, or you can use 'Italian style' from your supermarket
An Italian sausage has a denser bite than the 'British Banger' as they are usually 100% pork (containing no fillers) and are flavoured with fennel, chilli, wine and seasoning.
For this recipe I found some Sicilian style sausages (86% Pork), which are a good alternative to the real thing.
Here is what you need.
Soft Baguette
A pack of Italian (style) Sausages
Red pepper
Green pepper
Onion (or Red Onion, for a sweeter taste)
Garlic
Cayenne Pepper (optional)
White wine vinegar

Start by browning the sausages in a frying pan (or the oven)
Thinly slice the peppers, then cut roughly into 2cm bits, same again with the onion.
Fry the onion until golden, then add the peppers and cook right to the point that they start to break down. You still want a texture, and not a much with the veg
Add the Finley chopped garlic and quickly fry careful not to burn it
For an added kick add cayenne pepper.
Finally add a couple of splashes of the white wine vinegar, this will both steam and pickle the peppers.
Split the Baguette, add the peppers, then place the sausages on top…
Now you're good to go.